DONGFENG TRUCKS
It's All About Reliability
Originating from the Chinese culture and further developed through craftsmanship with trust, professionalism, and global techniques, Dongfeng Trucks manufactures trucks designed for professional operators, running demanding operations in a modern society.
Smart Features
Each Captain is equipped with a multifunctional steering wheel, cruise control, fuel consumption gauge, and parking sensors to provide divers with the best experience.
Quality Body
The Captain features a 14ft chassis for its body, enabling it to be equipped with a variety of body options. Whether for logistical of construction goals, the Captain aims to do them with excellence.
Cummins ISF
Our Cummins Euro 4, 3.8L engine offers higher power (154HP) and torque VS other trucks in its weight class. Expect exceptional power from a lighter and more durable engine.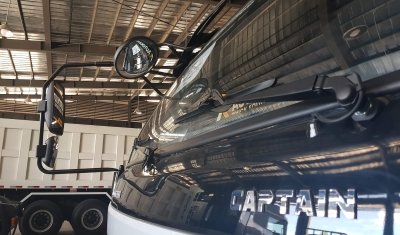 Safe Navigation
The Captain is equipped with six wide-angle mirrors strategically placed on the sides of the cabin. This minimizes blind spots, ensuring a smooth journey for your vehicle.
Captain Class Design
The Captain's attention-grabbing build makes a statement that your business is boss. Improve your corporate image while delivering results.
Modern Interior
Our sleek interior rivals those from passenger cars. Paired with modern improvements like sound-proofing, power windows, air conditioning, you can drive longer for your business.
Day-Lights
Fashionable and BRIGHT. These light will dazzle the streets even in daylight.
The Captain
Introducing the Captain, Dongfeng's popular line of light commercial trucks for your business. It features Cummins ISF engines so that you can expect clean EURO IV emissions paired with excellent performance, reliability, and durability.